Snap Sun decision launch Java at iPhone
| | |
| --- | --- |
| ㆍ작성자 | |
| ㆍ작성일 | 2008-03-09 (일) 10:54 |

ㆍ추천: 0 ㆍ조회: 3727
ㆍIP: 218.xxx.168
Snap Sun decision launches Java at iPhone
Less than a day after Apple
unveiled
its much-discussed iPhone SDK,
Sun Microsystems has told the world it will build a Java Virtual Machine for Steve Job's handheld status symbol.
"We're very excited," Eric Klein, Sun's vice president of Java marketing, told the The Reg.
"We've spent the last 24 hours furiously looking through what information was made publicly available,
and we feel comfortable enough at this point on the information we have to commit the engineering
resources to bring the JVM over to the iPhone and the iTouch as fast as our schedules and
Apple's release schedule will allow."
That means the Jesus Phone JVM will arrive sometime after June, when the official iPhone App Store
opens its virtual doors. You see, Steve Jobs has allowed third-party applications onto his phone,
but each and every one must be funneled through his own private software market.
That said, Apple has allowed developers to set their own prices. And this made Sun happy.
"We of course chose to set the price of the JVM at... free!" Klein told us with a chuckle. Or two. Or more.
"Apple explicitly said developers can chose to put free applications through the App Store and
- heck - we're doing it!"

Klein had no other details to share. Because there aren't any. "We're just 24 hours into this," he said.
"We have a lot of learning to do, as do all the developers who just got access to the SDK.
We just thought it was really important that our development community has the opportunity to write
a Java app and have it run on the iPhone."®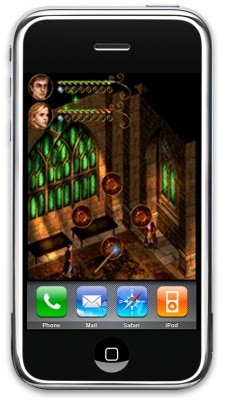 Harry Potter and the Order of the Phoenix

중후반쯤 스티브 잡스가 app store를 설명했는데요. 영상을 남깁니다.


들풀

2008-03-09 14:56

그렇지 않아도..어제 apple의 iphone app. store 소개 동영상을 보고 감탄했는데..
iphone의 약진이 예상되는 군여..

아래의 링크에서 Apple March 6 Event 上 /下 참고하세요.


http://www.ebookinside.com/community/list_new.asp
invain

2008-03-09 15:30

의견감사합니다. 역시 숲을 아우를수 있는 능력에 다시한번 존경을 표합니다.
※ 회원등급
레벨 0
이상 읽기가 가능한 게시판입니다.
N

분류
제목
글쓴이
작성일
조회
10

Snap Sun decision launch Java at iPhone

2008-03-09
3727
9

Google Summer Of Code '08Proj Proposal

2008-03-08
3085
8

새로운 Sample Application 발표 - WikiNote

2008-03-07
3276
7

구글「모바일용 구글기어」제공한다

2008-03-06
2887
6

Small SDK update released [ m5-rc15 ]

2008-03-04
2927
5

[News] Gates: Google Does Not Understand

2008-03-04
3089
4

[뉴스] 노키아 문자메시지 위젯 등

2008-03-04
3102
3

[뉴스] 인터넷기업협회, 망개방 요구

2008-03-04
2786
2

[뉴스] 세계는 스마트폰을 탐낸다

2008-03-03
3136
1

[펌] 국내 스마트폰의 활성화는 글쎄..

2008-03-03
3665