[ADC1,Winner] TuneWiki for Android
| | |
| --- | --- |
| ㆍ작성자 | |
| ㆍ작성일 | 2008-05-09 (금) 00:48 |

ㆍ추천: 0 ㆍ조회: 3710
ㆍIP: 218.xxx.168
TuneWiki is the a next generation, community based media player.
Play music while streaming synchronized lyrics and subtitles for audio and video files,when the lyrics are legally streamed from our servers.
Build a virtual media library: files can reside locally on the android file system or as a URL to a multimedia asset at YouTube, Yahoo Music, Imeem, friends' URL based remote storage or any other URL - accessed library.
Community based: users, from an Android phone, can sync the music to the lyrics, add, edit, share, vote and translate lyrics and subtitles.
Location based: supply community information relevant to the location: who is playing which music next to you, people in the world that play the same music as you do, and allow you to communicate and share with like - mind music lovers and with your social network.
Internationalization of music: a destination with all the music, from all the countries , with cross cultural, community based sharing of the meaning: With Tunewiki translation application, a user will be able to listen to a song in Chinese and get the lyrics in English, French, Hebrew or any other language, bringing the world a bit closer, with music.
Helping people with disabilities: Tunewiki has been recognized already as capable of helping deaf people experience music a bit better, with others.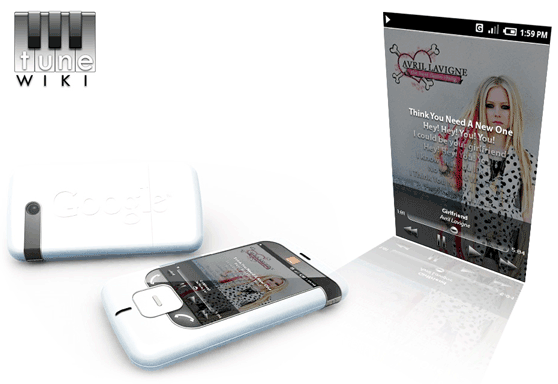 Over the last 5 months I've worked on two different Android applications for the ADC, and finally
one of them has been revealed!
TuneWik.com
is a website that hosts thousands of song lyrics and then streams them to your media player on your PC or phone. It will then display the lyrics synced up to the song, or gives you the ability to sync them yourself if they haven't been synced yet. It's a community driven effort to sync all of the lyrics. There will be features to allow you to sync the lyrics with YouTube music videos also, but that isn't currently available in this SDK. It's been wildly popular on the iPhone with hundreds of thousands of active users and myself and Chad Kouse have worked very hard to get it on to Android. The download is not available yet, but don't worry it will be available when the phones hit the streets.
Chad will walk you through the app in the video after the break.
※ 회원등급
레벨 0
이상 읽기가 가능한 게시판입니다.
N

분류
제목
글쓴이
작성일
조회
746

[ADC1,Winner] SplashPlay

2008-05-12
3385
745

[ADC1,Winner] Pocket Journey

2008-05-12
3711
744

[ADC1,Winner] COMMANDRO

2008-05-12
3023
743

[ADC1,Winner] Android Scan

2008-05-11
4732
742

[ADC1,Winner] TuneWiki for Android

2008-05-09
3710
741

안드로이드 챌린지 I에 참가하셨던 개발자분들.

2008-05-11
3578
740

ADC Winners result expected on Monday (2008.05.12)

2008-05-09
2757
739

Game Garden -- ADC Submission

2008-05-04
2729
738

The Transit Rider's Guide to the Galaxy

2008-04-23
2968
737

구글러브 ㅋ

2008-04-21
3061
736

Moseycode Release 0.2.0

2008-04-21
2980
735

Android ShapeWriter WritingPad

2008-04-16
2843
734

< New Phone Number & Address Project >

2008-04-15
3193
733

BabelFish

2008-04-12
2760
732

Statistician

2008-04-11
2598
731

PR Web In Plain English

2008-04-11
2758